Create an Unforgettable Experience
Tent Rental for Concerts
Provide an unforgettable, comfortable experience for all of your employees, talent, and attendees at your show. Our team can provide everything you need from large structure tents to seating.
Your One-Stop-Shop
Everything You Need for Your Concert
Planning for your event just became easier. Work with our expert team to ensure that you have everything you need for the concert to go smoothly. We can handle everything you need to rent, so you can focus on managing the rest of the working parts of your event.
Full-service
Rental Tents
Tents at a concert offer shelter from the elements, whether it's the heat from the sun or wind and rain. Everyone, including staff, vendors, artists, and concert-goers. Tents can be used for the following at a concert:
Vendor sales of drinks, food, and merch
First-aid tent
Eating areas
Talent dressing rooms
Backstage areas
Staff areas
And more
Fans & Safety Equipment
Renting safety equipment can help to keep everyone from the talent and attendees to the vendors and your staff safe. It's never a bad idea to be prepared for any eventuality. In addition, fans can help you to regulate temperatures to prevent overheating.
Tables & Seating
Vendors, talent, staff, and attendees may all want places to sit, whether it's while they're on break, waiting to go on, selling their wares, eating, or enjoying the concert. Rent as many tables and chairs as you need.
Linens
Linens can help to give your event the decor needed to truly make it a memorable experience for your guests. Plus, vendors may need linens to better display what they're selling. Linens also help to make cleanup a lot easier after the event is over.
Any Size Event
No Event Is Too Big for Tent Rentals
Whether you're hosting a small, intimate concert for an up-and-coming artist or a large music festival with numerous concerts ongoing all at once, we're prepared to meet your needs. Rent however many tents of whatever size you need to ensure your concert goes off without a hitch.
Rental Tents of All Sizes
We offer three different types of rental event tent:
Pole tent
Frame tent
Structure tent
These three tents each come in a wide range of different sizes so that you have just the right amount of space for employees, attendees, and artists.
Flooring
For a concert, flooring can help to provide a sturdy place for the following:
Setting up the stage
Storing electronic equipment
Providing guests with a dance floor
And much more
Ramps
You may also need ramps for your event in order to be ADA-compliant. Ramps can also make it easier to move heavy equipment to the stage.
Hands-Off Delivery
Setup and Tear-Down Included with Tent Rentals
Get a comprehensive delivery and installation with all of our tents. Just let us know where you'd like them, and we'll handle the rest. Then, once the show is over and everyone has headed home, we'll tear it down and take it away. You won't have to worry about a thing.
Rental Tent Delivery
You have enough to worry about making sure everything is ready for your concert without having to worry about how to pick up your tent rentals. That's why we'll handle everything and deliver them to you in plenty of time to set up before the show.
Rental Tent Setup
Putting up a large event tent can be tricky if you aren't a professional. That's why our experts will take care of setting up the tents, no matter what size or how many you've rented.
Rental Tent Tear-Down
After the show is over, we'll take care of taking the tents down and packing them away. You'll have enough on your plate, so we'll handle this for you.
Rental Tent Take-Away
After we've taken down the tents, you don't have to worry about returning them to us. We'll take them away with us so you don't have to worry about it.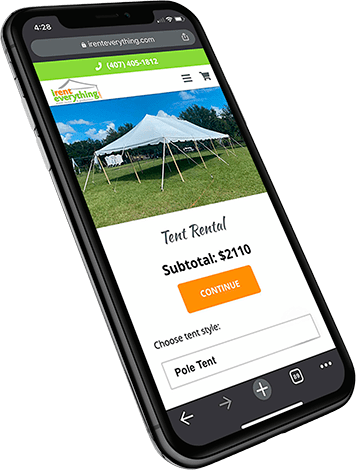 Instant tent quotes
Rent your tent online
Use our online tent rental tool to determine everything you need and get an instant quote. Book your tent online and we'll handle the rest.