Safe & Secure
Tent Rental for Warehouse & Storage
Store your valuables in a safe & secure tent structure. Our team can create a warehouse wherever you need it with solid doors and weather-resistant walls.
Keep Your Inventory Safe
Rental Tents with Sidewalls & Doors
When you rent a tent for storage or to act as a warehouse, it's important to rent one with sidewalls and doors. This will help to protect your inventory and keep out any unwanted pests, people, or even weather. You can keep your items safe for as long as you need in this secure pop-up storage facility.
Tent Sidewalls
Sidewalls are typically an optional add-on for a tent rental. However, if you're using the tent for storage, they become a must. A tent without sidewalls may only be safe to store your items for either a short period of time or with someone guarding it. Sidewalls will allow you to secure your inventory for longer periods of time.
Tent Doors
When you rent sidewalls along with your storage tent, you'll also need tent doors. These will allow authorized personnel to enter and exit while also helping to secure the tent against unwanted intruders, both human and animal, and protect its contents from the weather.
The Perfect Temperature
Temperature Control for Tent Rentals
Have sensitive inventory that needs to be kept at a certain temperature? No problem. We can outfit your tent with state-of-the-art temperature and climate control so that you can keep your products safe while they're being stored.
Rental Heaters
If you need to store inventory that can't get too cold through the winter, even in a location like Florida, heaters can come in handy. Rent what you need to control the temperature under the tent to protect your items from cooler winter temperatures.
Rental Fans
Fans can help to regulate the temperature with airflow so that temperatures don't rise too much. They can be a great option when the temperatures are not extreme.
Rental Air Conditioning
In hotter temperatures, fans may not be enough to cool down the interior of the tent. Therefore, climate control can help to keep your inventory at the proper temperature so that it can stay fresh or in good condition for as long as possible.
Take As Long As You Need
Any Duration Tent Rentals
We have plenty of inventory, so we won't ever ask you for the tent rental back until you're completely done with it. Whether you need it for just a weekend or for a much longer period, take as much time as you need with your rented storage space tent.
Short-Term Storage Tent Rentals
Sometimes, you may only need storage for a short period of time, such as over a weekend or for the duration of a specific event. If this is the case, we'll have as many storage and event tents available as you need.
Long-Term Storage Tent Rentals
Not all rental needs are for the short-term, however. If you need storage on a longer-term basis, we're still here for you. Whatever your rental needs are, we're happy to help you out for as long as you need.
Everything you need
Why Rent a Tent for Storage?
Constructing a building to function as a warehouse for storage can take a long time. Plus, you're limited in where you can build that warehouse. Then, there are building permits to worry about. With a rental tent, you'll have much more flexibility.
Rental Tents Are Temporary
Even if your storage needs are longer-term, if they aren't permanent, then renting a tent to function as your warehouse can be a better solution than dealing with the hassle of constructing a building.
Rental Tents Are Quick and Easy
With iRentEverything's professional assistance, you won't even need to put up or take down your rented tent. We'll handle that for you and your warehouse can be set up and ready to meet your storage needs within hours.
Rental Tents Can Be Set up Anywhere
You'll have a lot more flexibility with the location of your warehouse when you're using a tent rental for storage. There are more locations suitable for tents than there are suitable for constructing a permanent storage building.
Rental Tents Are Customizable
It's easy to change the location, size, or temperature control of your warehouse when it's a tent. Rental tents are portable and much easier to install and take down than a building, so it's ideal for when your storage needs may change.
Trusted Professionals
Badges & Associations
We've worked with clients on countless weddings, which has helped us garner an outstanding reputation. With awards and acknowledgments from WeddingWire, Expertise.com and I Said Yes, iRentEverything is more than equipped to handle your next event.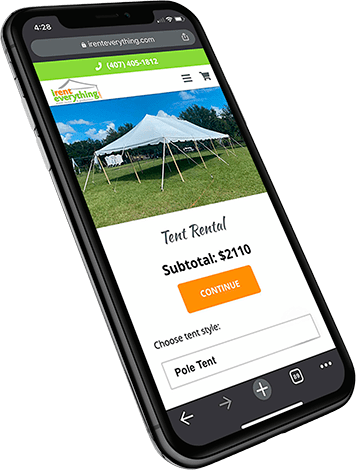 Instant tent quotes
Rent your tent online
Use our online tent rental tool to determine everything you need and get an instant quote. Book your tent online and we'll handle the rest.