Your big day, simplified
Wedding Tent Event Rental
You have a lot to think about on your wedding day. Let us handle the logistics of setup and teardown so you can enjoy the big moments. Our team can help you select chairs, tables, linens, decor, and more to make your day perfect.
Your one-stop-shop
Everything You Need for Your Big Day
Make your planning easier by working with our expert team for all of your wedding needs. We can handle everything you need to rent, so you can focus on enjoying the moment and the lead-up. iRentEverything can provide:
Tables
Seating
Linens
Glassware, dishes, flatware, platters, etc.
Decor
Tents
Lighting
Kitchens
Power
Toilets
And more
Any size event
Ceremony & Reception
No matter how many guests have made your list, we're able to help. If you're doing a small, intimate affair with close family or a larger gathering where more is merrier, our team of experts can make your dream day a reality.
Wedding Ceremony
You can rent not only the tent needed for your wedding ceremony but also decorations and the seating for your guests.
Wedding Reception
Wedding receptions have different requirements than the ceremony. You'll want not only chairs but also tables so that your guests can eat. You may also want room for a dance floor or even a stage for musicians or a DJ.
Protect your guests
Protection from the Weather
The reason rental tents are so essential for outdoor weddings is that they protect you and your guests from all kinds of weather. You can hold your wedding at your chosen destination whether it's cold and rainy or hot and sunny. You and those you've invited to share your special day with you can relax and enjoy your wedding in the comfort and shelter of our rental tents.
Customizable Experience
Deluxe Offerings for Weddings
We know your wedding might need more than your standard white tent — although we have those, too. Here are just a few of the options we offer for wedding tent rentals.
Electricity
You need electricity if you're going to want to boogie the night away to your favorite music. We can ensure that your tent is equipped with all the electricity necessary for lighting, speakers, and anything else you need.
HVAC
If your wedding is outside in the middle of the summer, you might worry about overheating. Our tents can come equipped with HVAC, perfect for keeping things cool when the temperatures rise.
Toilets
If your outdoor wedding is far away from any restrooms, or there are limited restrooms nearby, iRentEverything can bring portable, professional, and clean toilets to the location. No more long lines and no more port-a-johns.
Kitchens
Our tents can easily accommodate your wedding's catering crew or create a separate space for preparing food so you can retain your main tent for the ceremony and festivities.
Professional and Personal
Why Our Tents Are Perfect for Your Wedding
Not all tents are created equal. Here are just a few of the aspects that make our wedding rentals stand out from the rest:
Luxurious Materials
Our tents come in several different materials, so you can find the one perfect for you. Choose from glass doors, PVC backing, and more.
Secure and Safe
Many of our tents have secure, locked storage so you can keep your set-up exactly the way it is overnight without worrying about anything happening. This is a great option for those who wish to set up their wedding the night before the event.
Wheelchair Accessibility
We ensure our set-ups are wheelchair-accessible so your guests can enjoy your wedding to the fullest.
Various Shapes and Sizes
Our rentals come in all shapes and sizes, so you can create a set-up that works for your unique wedding.
Wide Array of Options
We also offer various options for chairs, linens, silverware, and everything else you need to make your wedding perfect.
Ample Availability
We have locations all over the country, so we can get your wedding rentals to you in an easy and timely manner.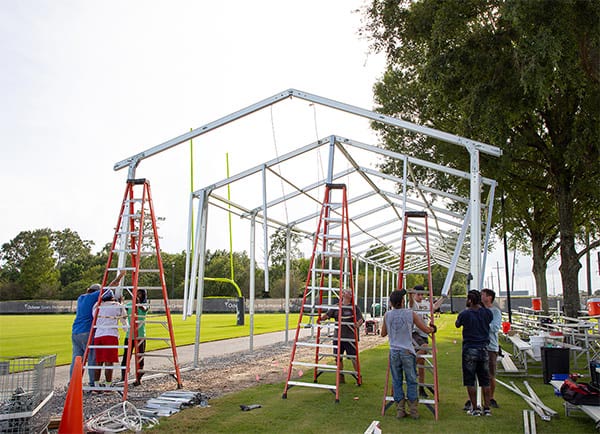 Hands-Off Delivery
Setup & Teardown Included
Timing is everything for a wedding, so we'll have it all delivered and set up well before event time. Then, once the party is over, we'll take care of all teardown so you can start enjoying married life.
Rental Tent Setup
When you rent a tent for your wedding, take advantage of iRentEverything's event tent setup services. You'll have enough to worry about making sure that your big day goes off without a hitch. We'll take care of ensuring that your tents are set up correctly.
Rental Tent Teardown
Once your wedding is over, the last thing you need to be worrying about is tearing down the tents. You can get ready for your honeymoon while we'll take care of everything else.
Trusted Professionals
Badges & Associations
We've worked with clients on countless weddings, which has helped us garner an outstanding reputation. With awards and acknowledgments from WeddingWire, Expertise.com and I Said Yes, iRentEverything is more than equipped to handle your next event.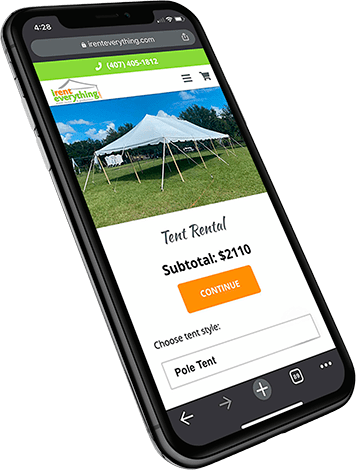 Instant tent quotes
Rent your tent online
Use our online tent rental tool to determine everything you need and get an instant quote. Book your tent online and we'll handle the rest.