Why You Should Host Your Next Event Outdoors (Even in Winter)
Sidewalls can protect against most weather conditions
Read Time: 3 minutes
Dec 19, 2022
Outdoor events are very popular in the summer to take advantage of the nice weather. Many people don't realize, however, that outdoor events can happen all year round with the right equipment. With the right type of rental tent, you can have an event outdoors even in the depths of a northern winter. The following are reasons you should consider hosting your next event outdoors no matter the season
Take Advantage of Natural Scenery
The outdoors has a lot to offer in terms of surroundings. There aren't gardens, lakes, mountains, and more indoors. By hosting your event outdoors, you'll provide your guests with gorgeous natural surroundings without needing to decorate. You can select your outdoor venue specifically for the surroundings. For example, if your city has botanical gardens or is near a lake, you can choose
The Outdoors Is More Versatile
Many indoor spaces are designed for a specific purpose. The outdoors, however, can play host to any number of different types of events. It doesn't matter if you're hosting a corporate event, a wedding, a neighborhood block party, a concert, an awards ceremony, or anything else. It's easier to make an outdoor space work for any type of event.
An Event Tent Can Protect Guests from the Weather
The only downside to hosting an event outside is that the weather can be unpredictable. Even in seasons with nicer temperatures, you never know if it'll rain or be unseasonably hot. You would think this would limit the practicality of an outdoor event, but that's where an event tent comes in.
Sidewalls Can Help to Regulate Temperature
Sidewalls are very important when you're renting an event tent. This is because they help to protect against a number of different types of weather. You can keep heat either in or out of the tent when sidewalls are installed. Plus, they help protect against the wind because they block gusts from getting into the tent and creating updrafts that could push up at the canopy of the tent.
You Can Rent a Tent Floor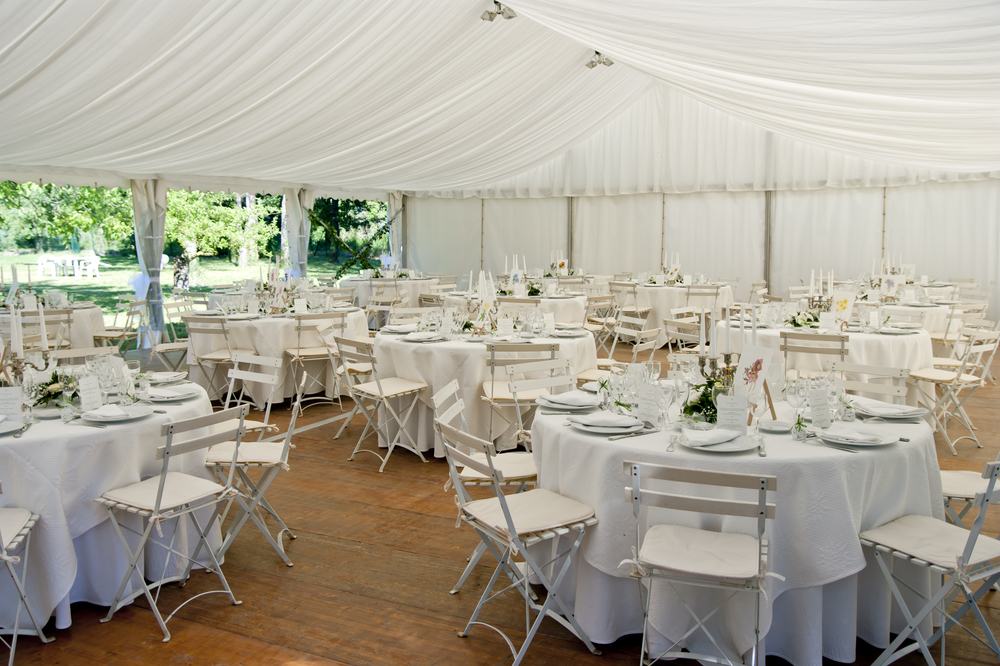 You can create a flat surface for tables and chairs and even a stage by renting flooring along with the tent. It's often included as part of the tent setup so you don't have to worry about stepping on the cold or possibly wet or snowy ground if your event is in the winter.
Heat or Cool Within Your Event Tent
If you have sidewalls on your event tent, you can better control the temperature within with either air conditioning or heat, depending on the season. If you're hosting an outdoor event in winter, then heaters are a must. The tent sidewalls won't have the type of insulation the walls of a building will, so you'll need heaters to keep your guests comfortable, but the sidewalls will help to keep that heat inside.
Event Tents Protect Against Adverse Weather
One of the risks of planning an outdoor event is that the weather doesn't cooperate. Even if you plan it for the spring or summer when the weather is supposed to be nice, you can't guarantee that it won't rain. Just having an event tent will help to keep your event going even if it rains. Having sidewalls is even better because then the wind can't blow rain underneath the tent.