Create an Excellent Experience
Corporate Event Tent Rental
Everything you need to ensure your event is a productive and safe experience for you, your employees, and any customers that attend.
Your One-Stop-Shop
Everything You Need for Your Corporate Event
If you're wondering where to hold your next corporate event, look no further than the great outdoors. There are a number of benefits to an outdoor event, from boosting employee morale to offering a wider range of activities for the event. Holding such an event will necessitate rental event tense to ensure that the event goes smoothly. Renting tents will ensure that your event can still occur no matter what the weather is like.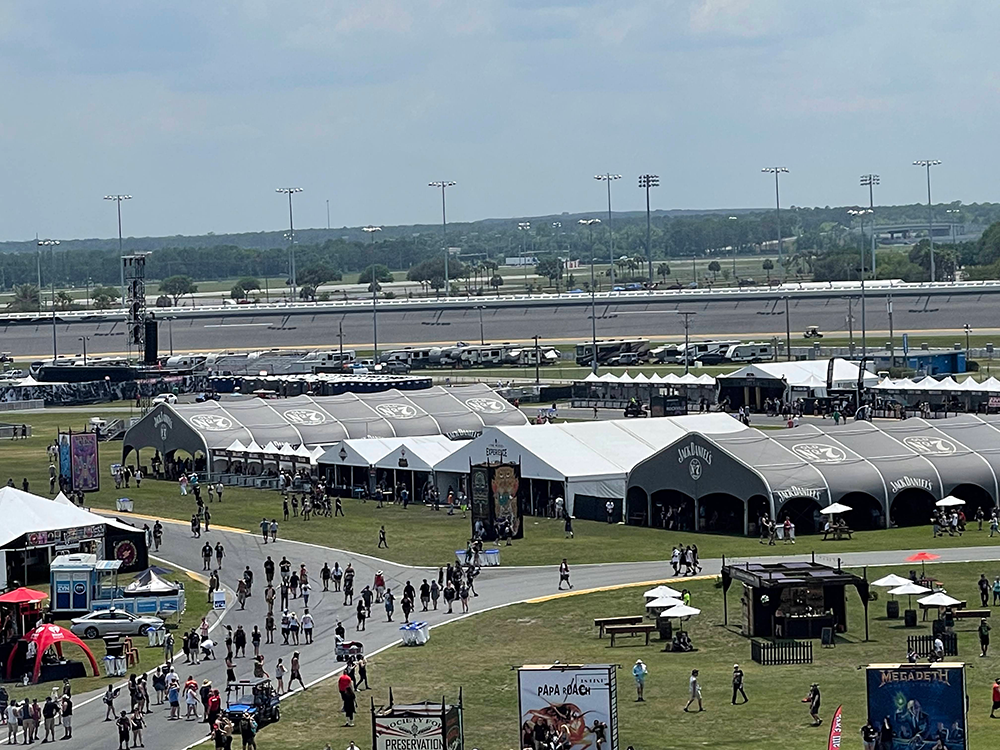 Rental Event Tents
The first thing you'll need for your corporate event is rental tents. The size and number of tents you'll need vary depending on the number of people attending and the type of event you're hosting. If there are different kinds of activities or vendors, separate tents to delineate them.
Tent Sidewalls
While sidewalls don't have to come with your tent rental, they're a good idea. If the weather is bad or it's too hot or cold, sidewalls will help to create an indoor space outdoors. You can control the temperature within the tents with heaters or fans so that everyone is comfortable and safe from the elements.
Tables and Chairs
You'll need tables and seating for your event and iRentEverything is able to provide those for you along with your tent. Whether your corporate event is just for your employees or involves vendors or customers, you'll want them to have places to sit, eat, display wares, and more.
Fans or Heaters
With a rented event tent, it's possible to hold an outdoor corporate event at any time of year. With sidewalls, you can keep bad weather and extreme temperatures out. Depending on the weather, though, you'll need some way to control the temperature inside your tent. Fans in the summer and heaters in the winter can help ensure comfort for everyone no matter what the weather is like outside.
Linens and Decorations
Linens can help you to keep tables clean as well as looking nice. If there's food or drink involved at your event, you can protect your tables and make cleanup a breeze at the end. Plus, linens add to the ambiance and can enhance the surroundings.
And More
We rent anything you'll need to make sure your event goes smoothly, including:
A/V equipment
Lighting
Computers and TVs
Umbrellas
Decorations
Utensils, glasses, dishes, trays, and more
Culinary equipment (ovens, griddles, etc.
Sinks
Carnival games
And more
Any Size or Type of Event
Types of Corporate Events
There are a wide variety of different types of corporate events and which kind you're hosting will determine what you'll need to rent. You won't need to worry about whether you'll be able to rent what you need, however. No matter what your event is, we'll have you covered.
Team-Building Events or Company Retreats
Many companies choose to host team-building activities for their employees to bring them closer together. For such an event, you could rent tents, carnival games, culinary equipment, and more to ensure your employees are entertained and well-fed as they bond and enjoy themselves.
Trade Shows and Product Launches
Another type of corporate event is a product launch or a trade show. These showcase the products that your company and others have to sell. Therefore, tents for storage and to protect products are necessary, as are tables and linens for setting up booths to show off products.
Conferences
There's no reason a conference has to be held indoors. Outdoor conferences can be a great way to boost morale and keep attendees interested. Tents can host each speaker if you have more than one talk going on at once. Chairs can keep audience members comfortable.
Board and Shareholder Meetings
Holding a board meeting outside can be an excellent way to breathe fresh air into what might otherwise be boring. Board members can enjoy nice weather and sunshine, getting out of the board room and instead spending time in beautiful scenery under a tent. If your meeting is for shareholders, you may need a larger tent and more chairs to fit everyone.
Celebrations and Award Ceremonies
Celebrating holidays and employee successes is a great way to improve morale and engagement, which can improve productivity. Host your company's celebration outdoors with event tents, games, culinary equipment, and more.
Hands-Off Delivery
Comprehensive Corporate Event Tent Rental Service
We don't just rent out tents. We also set them up and tear them down after your event is over. Setting up a tent safely is vital to the success of your event and you can trust our experts to do the job the right way.
Event Tent Rental Delivery
You won't have to worry about a thing with our delivery services. We'll bring the tent and anything else that you've rented for your event to your location, whether it's tables and chairs or heaters and culinary equipment.
Rental Tent Setup
Setting up a tent correctly is essential so that the tent doesn't collapse or blow over in a strong wind. We'll take care of that for you so you don't have to worry about figuring out how to put up the tents.
Tent Teardown
Once your event is over, we'll also take care of taking everything down for you. You'll have enough you need to worry about during your corporate event, so let us take this off of your plate.
Rental Tent Takeaway
We'll also take away everything we delivered. This includes your event tents, fans, heaters, culinary equipment, chairs, tables, or anything else that you rented from us. That way, you don't have to worry about bringing it back to us.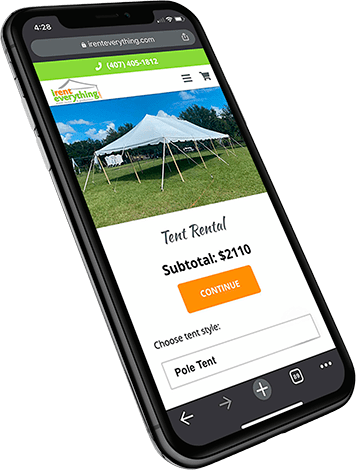 Instant tent quotes
Rent your tent online
Use our online tent rental tool to determine everything you need and get an instant quote. Book your tent online and we'll handle the rest.