Full-service
Sporting Events Tent Rental
Get everything you need to create a safe, comfortable experience for your employees, players, spectators, and VIPs. Our tent and equipment rentals offer shade, refreshments, toilets, showers, and more.
Full-service
Comprehensive Sports Event Tent Service
Nobody wants to sit in the blistering heat to cheer on their favorite team – nor should anybody have to. Our tent rental team can help you create a cool environment for your sports events spectators to watch the game in comfort. From setup to teardown, we can handle all of your tent needs.
Everything you need
What Our Sports Event Rentals Offer
Take your event from good to great with the help of our sports event rental team. We offer you a slew of services and add-ons, including:
Electricity
Is your sporting event going well into the night? Don't worry; we can bring lighting and the necessary power to keep things well-lit long after the sun goes down.
HVAC
If heat is an issue, we can equip some of your tents with HVAC. Whether you want to create a VIP lounge for your guests to cool off in or a tent that players can use to cool off between matches, we've got you covered.
Toilets
iRentEverything can bring portable, clean, and professional toilets to your event. Additional toilets can help make lines shorter and avoid the need for port-a-johns.
Showers
If your sporting event is at a location without a locker room, it's vital to have showers and running water so your players can cool off and clean up once they get off the field.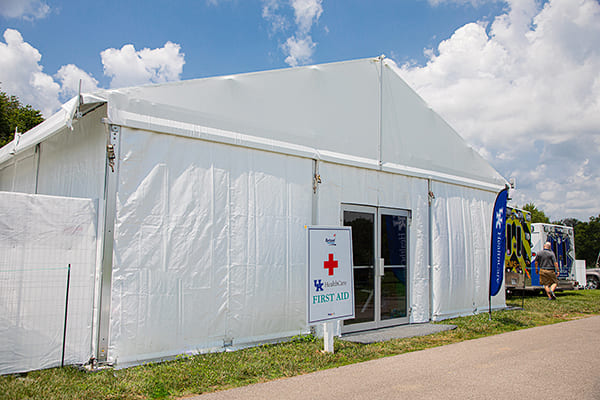 Medical
Our tents are perfect for creating many spaces and set-ups, including a medical station. A medical station is a necessity for any event, but especially one where players can get injured and spectators could fall weak in the heat.
Everything you need
How Rental Tents Enhance Sporting Events
While the field and stands are already taken care of, there are plenty of other uses for tents at a sporting event, from merchandise sales and food to a medical tent.
Merchandise Sales
Sports fans want to come away from the game with merchandise supporting their favorite teams. Vendors can set up shop underneath tents to sell everything from t-shirts and merch that fans can purchase to support their favorites during the game to souvenirs that they can take home.
Food and Beverage Sales
A sporting event isn't complete without food and drinks. Tents can provide the location for vendors to set up and can also offer dedicated eating and drinking locations for fans that want to consume their purchases before returning to their seats. We can also provide electricity and kitchens for food prep and storage.
Restrooms
We don't just rent tents. If your sporting event needs extra restroom capacity, we can take care of that for you, too.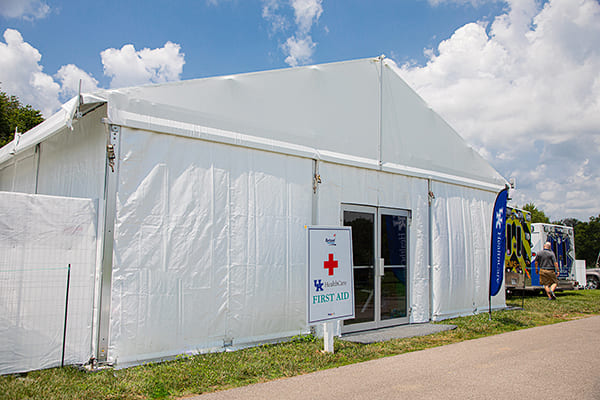 First Aid Tent
Players aren't the only people who can sustain an injury during a sporting event. To be on the safe side, it's best to have a first aid tent and medical staff to treat any issues that could arise.
Clearspan, structured tents
How our tents are different
Any size event
No job too big or small
Whether you're hosting a single game or a multi-day tournament with thousands of spectators, our team can handle it. We have tents of all sizes to accommodate any kind of event, so just let us know your needs, and we'll be able to fulfill them for you.
Above & beyond
Create an unforgettable experience
Provide a unique experience with custom branded tents and large luxurious structure tents with completely designed interior spaces. Our team can make any of your wildest dreams come true to wow your fans, staff, and players.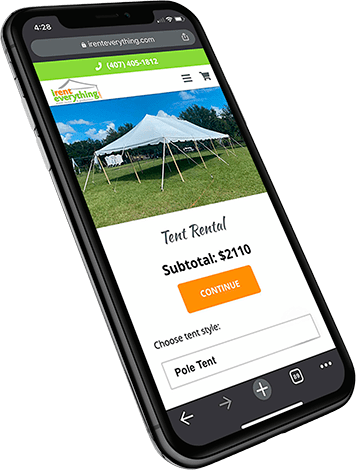 Instant tent quotes
Rent your tent online
Use our online tent rental tool to determine everything you need and get an instant quote. Book your tent online and we'll handle the rest.